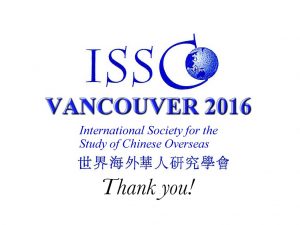 Dear Conference Delegates,
Thank you for your participation at the ISSCO 2016 conference hosted by the University of British Columbia.
Over 300 delegates, special guests and volunteers participated in the three-day conference in Richmond, BC, Canada, as well as a series of post-conference events in Richmond, Vancouver's Chinatown, as well as the Fraser River valley.
Over the next few weeks, we will be updating the conference website with media articles, photos, and relevant project links.
The conference email <issco.2016@ubc.ca> will be closed permanently after August 31, 2016.
For future assistance, and information about ISSCO membership, please contact the ISSCO official secretariat at <isscosecretariat@gmail.com>
The ISSCO 2017 regional conference will be hosted by Nagasaki University: http://issco2017.com/
Thank you and best wishes.
Sincerely,
Glen Peterson & Henry Yu
ISSCO 2016 Co-Conveners